Why You Should Leave The Concrete Work To The Professionals In Carlsbad?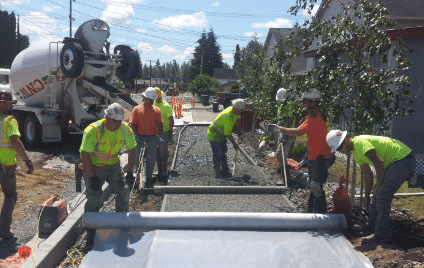 Concrete installation and repair may seem like a simple task, but it is one of the most complex skills in the construction industry. It requires precision, knowledge of different types of concrete mixtures, expert application techniques and specialized tools for successful completion. To make sure that your concrete project turns out just as you want it to, here are some sensible reasons why you should definitely leave the work to the professionals:
Trained professionals have years of experience under their belts which means they will be able to ensure your project is completed with high-quality results that meet your exact specifications. Professionals are also familiar with building codes and regulations so you can rest assured your project will be up to standard.
Professionals have all the right tools to get your project done quickly and efficiently. This is especially important if you are working on a tight deadline. They also know how to use the right amount of materials, reducing waste and keeping costs down.
Working with concrete can be dangerous due to the heavy weight of cement and other materials used in its installation. Additionally, inexperienced DIYers may not be aware of hazardous work practices that could potentially lead to injury or property damage. Professionals are equipped with proper safety gear and have extensive knowledge about safety protocols regarding concrete handling, which will greatly reduce risk.
Professional concrete contractors purchase quality-assured materials from reliable sources so you can be sure that the concrete used in your project is of the highest standard.
Professional contractors will provide you with an accurate estimate before any work begins, meaning no surprises when it comes to cost. They also know how to get the job done correctly on the first try, avoiding having to make costly repairs down the road.
FAQ's
What Is The Meaning Of Concrete Work?
Concrete work is the process of mixing, pouring, and finishing concrete. This includes laying down foundations for structures, repairing or replacing existing concrete surfaces, and creating features such as driveways, patios, retaining walls, and walkways.
What Tools Do Professionals Use For Concrete Work?
Professionals use a variety of tools to complete different types of concrete work. These include mixers to blend cement with water and other materials, trowels to smooth out wet concrete surfaces, floats to impart texture on finished surfaces, power saws to create clean cuts in hard materials like asphalt or stone, and more.
What Is The Job Of A Concrete Cutter?
A concrete cutter is a professional who uses specialized tools to cut, tear, and shape hard materials such as asphalt or stone. Concrete cutting is an important part of most concrete installation projects, allowing contractors to create precise shapes and dimensions for features like walkways and driveways.
Conclusion
It is clear that professional concrete contractors can provide high-quality results and ensure a successful project. They are experienced in using the right tools, purchasing quality materials, following safety protocols, and providing guarantees or warranties. For more information, contact Concrete Contractor Carlsbad at (760) 576-2525.